Inflammatory Acne: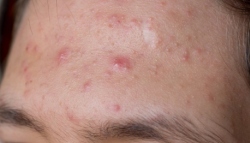 Typically characterized by: redness/blotchiness, heat in the skin, pimples/pustules/whiteheads/blackheads, possibility of nodules/cysts, excessive oil, and skin is usually sensitive and reactive to products.

In addition to being prone to excessive dead skin cell build up, some people are also genetically prone to inflammation. When acne bacteria combine with oil and dead skin cells, they irritate the lining of the follicle walls.
When irritation and pressure inside the pore builds, the lining will rupture and spill debris into the surrounding skin tissue. As your body's self healing mechanism kicks in, white blood cells will form in an attempt to dissolve the debris. This process results in small, red, swollen bumps called papules.
Within the first three days of the pore rupturing, white blood cells clump together forming pus which will migrate to the surface bringing the impacted material with it. This type of acne lesion is called a pustule.
If the follicular break is very large or deep in the skin, inflammation may last several days or even weeks. These larger inflamed lesions, types of acne called nodules, can be the size of a pencil eraser or larger and are usually quite sore to the touch.
Cysts happen when one or more follicles collapse or explode deep within the skin and cause severe swelling, inflammation, and pain. Nodular cystic types of acne can take weeks to heal completely.
The longer it takes for an acne lesion to heal, the more likely you are to experience scarring. To minimize scarring, inflammation must be brought under control as quickly as possible by using strong anti-bacterial and healing agents.