Is Microdermabrasion Acne Treatment Right For Me?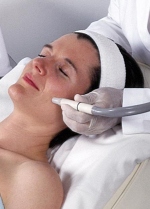 Even though microdermabrasion acne treatment is safe and effective -- it's not for everyone.
Keep in mind, you cannot scrub your acne away.
Microdermabrasion is a fairly aggressive procedure that can make many skin conditions worse.
If you're prone to inflamed acne -- brushing, scrubbing, and other forms of "abrasion" will only aggravate your skin, trigger more break outs, and extend healing time.
Microdermabrasion acne treatment doesn't work well and should not be performed if you have more than one or two inflamed acne lesions or you tend to break out regularly with pimples, pustules, nodules, or cysts.
If you're unsure what types of acne you have, click for an explanation.
Avoid Microdermabrasion If You Have:
Inflamed Acne or Tendency for Inflamed Break Outs
Rosacea
Sensitive, Thin, or Fragile Skin
Visible Capillaries and/or Broken Capillaries
Skin of Color That Tends to Get Hyperpigmentation
If you have any of the conditions listed above, professional acne skin treatments, mild chemical peels, and a consistent home-care routine would be better alternatives for you.
These other acne treatment methods will heal inflammation and prevent new break outs better than microdermabrasion without causing negative side effects.
Consider Microdermabrasion If You Have:
Dark Spots & Mild Acne Scars
Non-Inflamed Acne (such as blackheads and whiteheads)
Rough Texture
Thick, Dull, Excessively Oily Skin
If you suffer primarily with blackheads, whiteheads, or resistant "acne bumps" that are not inflamed, microdermabrasion acne treatment would be an excellent treatment for you.
Microdermabrasion can help dislodge impacted plugs from your pores, smooth texture, and even out dark spots and surface scarring.
Treatments will help your skin feel softer and more even, as well as improving color and luminosity. By reducing surface cell build up, microdermabrasion also allows your acne home-care products to work more effectively.